Gospel Flame" Lecture Series Delayed - Starts September 29 - More Time to Invite More Friends
Sep 20, 2012 19:42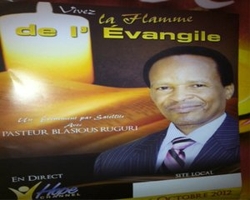 The "Gospel Flame" Bible Lecture series with Pastor Ruguri coming from Kampala Uganda and being broadcast for Africa, has been delayed due to technical difficulties. Originally slated to start Saturday evening September 22, the series definitely will be broadcast starting September 29.
The delay is actually a blessing giving more time for individuals to spread news of the series and invite friends, neighbors and co-workers to attend and watch.
Broadcast on Hope Channel International for the African audience, the series will feature the power filled dynamic preaching of Blasious Ruguri. Pastor Ruguri has lectured and preached widely in many countries in Africa and North America. The series will also feature health and family talks and a remarkable wide range of gospel music from choirs from all across east – central Africa. The series is translated into seven languages with home viewers able to select the language of their choice. English, Swahili, French and other major languages of Africa will be available.
Anyone with a Free To Air satellite system tuned to Intel Sat 10/20 will be able to share in the programs. The series will be available on both Ku (small dish) and C-band (big dish) reception. Millions of homes across Africa will be able to watch the programs. Nearly 10,000 Seventh-day Adventist Churches across Africa are also hosting the event for large local audiences.
Reception parameter information for the small dish (Ku band) receivers is:
Hope Channel International [English]
Languages 1 to 7
Satellite: IS-10 Ku band

Frequency: 12573

Polarity: Vertical

Symbol Rate 04444

FEC 1/2

In PAL
Reception Information for big dish (C Band) reception will be posted soon.
MATANGAZO MUHIMU YA KANISA
SADAKA YA UJENZI
SADAKA YA BAJETI YA KANISA
Tunakumbushwa kuendelea kutoa sadaka zetu kwa ajili ya bajeti na maendeleo ya Kanisa
JIANDAE KUPATA TAARIFA FUPI YA UTOAJI WAKO KUPITIA SIMU!
SADAKA YA BAJETI YA KANISA
Ujenzi wa Kanisa Jipya Kirumba

Miradi mingine kulingana na mahitaji ya Kanisa

Mahubiri
TAARIFA ZA USHIRIKA
Washiriki wote msio na ushirika hapa Kanisani Kirumba mnakumbushwa kuleta maombi ya ushirika toka makanisa yenu ya awali.
Waone Makatibu
MAHUBIRI YA SATELLITE
Kutakuwa na Mahubiri ya Satelaiti yatakayorushwa toka huko Uganda kuanzia tar 29.09 hadi 13.10
Mahubiri haya yataendeshwa na Pr Ruguri wa Divisheni
Washiriki wote Tujiandae!!
Utoaji wa Zaka na Sadaka kupitia Benki.
Akaunti za kanisa
CRDB - A/c na. 01J1057734100 (Kirumba SDA Majengo Project)
NBC - A/c 015101005971 (SDA Church Kirumba)
NBC 015101001540 - SDA Nyanza (Conference)
Kumbuka kuleta slip ya benki pamoja na mchanganuo wake kwa wahazini ili upewe risiti
UINJILISTI KWA NJIA YA VITABU
JE? UMEANDAA PESA KWA AJILI YA KUNUNUA VITABU VYA PAMBANO KUU ILI KUVIGAWA BURE KWA WATU MWAKA HUU 2012? EBU NUNUA SASA ILI TUIMALIZE KAZI.